SAVING THE PLANET NEVER TASTED SO GOOD THIS CHRISTMAS!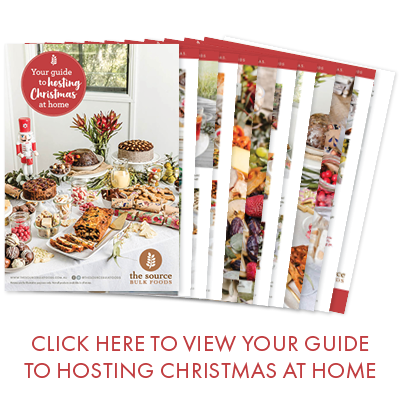 It's that magical time of year when your home becomes the heart of festive joy!
To help you prepare to welcome family and friends, we have put together a Guide to Hosting Christmas at Home so that entertaining this festive season is easy and delicious!
Inside, you will find entertaining ideas, table decorating inspirations and helpful preparation tips to unlock a Christmas Day filled with laughter, shared stories and tables overflowing with abundance and everyone in awe of the amazing spread before them.
Explore our guide now and shop your way through it or download a copy for later.
---
ALL THE BENEFITS OF
THE SOURCE BUT ONLINE!
Being on a zero-waste journey, our team is just as passionate about looking after the health of our environment as we are about sharing tips and advice on how best to use our range of products in everyday life.   Offering our products in bulk bins, means you can buy as little or as much as you need and you won't be taking home lots of unnecessary and harmful, single-use plastic packaging. When you buy from us online, you get all the same benefits, it's just that we pack it for you.
---
HOW DO WE PACK DRY INGREDIENTS?
After you place your order with your local store online, one of our team members will pack your items into packaging that meets our high environmental standards.  Our paper packaging is biodegradable, compostable, unbleached, and made from sustainably sourced materials. Some bags are also lined with a 100% plant-based film called PLA which is a natural starch made from plants like corn and sugar cane.
Some of our bags are sealed with a "tin-tie close" which means we don't need to use sticky tape plus they can be resealed many times when stored in the pantry.  Our bags are fully compostable so before putting them in the compost, simply cut off the tin tie which is handy for sealing other products in the pantry.
---
HOW DO WE PACK LIQUIDS?
When it comes to sending our cleaning liquids and personal care products like shampoo and conditioner, we do make one exception to using compostable packaging.  Instead, we choose reusable bottles and jars that you can use over and over again or are made from materials that can be recycled.  In fact, if you're ever near one of our stores, you can even bring them in to be refilled.
---
HOW DO WE PACK THE ORDER FOR DELIVERY OR COLLECTION?
It's also important that your goods arrive to you safe and sound so, when necessary, we use a recycled, cardboard 'bubble' wrap which looks a bit like expandable honeycomb and which can be composted.  Our cardboard boxes are also made from recycled materials and any actual tape our teams use on the outside of our boxes is also biodegradable in landfill.
Every order you place online with us is another positive step on our collective, zero waste journey.